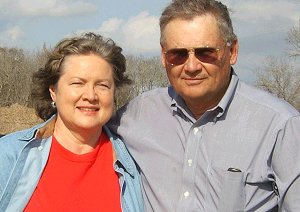 Photo by: Joel Romo

DNA Profiling -
New Technology Used In Selection Of Beef Genetics
December 2006

John and Carolyn Kopycinski believe the new DNA profiling technology can help them effectively shorten the long generational turnover that makes beef breeding so difficult.

They are using the DNA profiles to help determine whether important traits have been passed on before cattle enter their breeding program. The Kopycinski family own and operate Oak Creek Farms near Chappell Hill, Texas. They breed registered Brangus and Angus cattle, but their primary product is Brangus bulls.

John has been DNA testing some of their bulls for several years, and in 2006 he DNA tested all the Oak Creek bulls. So far, he and Carolyn believe the practice is paying Yet the Kopycinskis view all this genetic data as just one more tool in their culling and selection decisions.

"I cull up to 25% of my cow herd each year," John says. "I ask my cows to stay in the top 75% of production numbers, and if they don't, I cull them. I believe my herd's genetics should always be moving up." He keeps all his top females for breeding, and he has an annual production forage tested bull sale the last Saturday of October. He is managing his herd to produce predictable, easy fleshing and fertile bulls that will be an asset to his bull customers.

When the Kopycinskis do bring new genetics to their herd, John studies the individual animal's pedigree, performance and phenotype and selects on those merits. He then DNA tests the individual in order to have more complete profile, which helps him make breeding decisions. So, having data on actual genetic markers could provide an early warning before bringing in undesirable traits.

John adds that the DNA test for hair coat color helps him make mating decisions in a herd where he maintains black Brangus and Red Brangus. Now he can know, for example, if a black-coated animal is homozygous black and therefore will transmit only the black gene to his progeny.

John says he is pleased so far with the similarity he has seen between the genetic DNA profiling he has had done and the phenotypic expression of the animals he's witnessed in the pastures.

"Last year we tested one old bull and his profile came back a 1-1-10-10, which is very lean," he says. "We had already noticed his daughters were all hard-doers, so we're through with him."

The profile numbers John is referring to are part of the DNA Profiling test which measures carcass traits. Specifically, the four index numbers he quotes measure fat thickness, yield grade, ribeye area and hot carcass weight. Low numbers, such as No. 1, indicate less expression of a trait and high numbers, ranging up to No. 10, indicate more expression of a trait.

"I'm really looking for cattle that score more like a 3-3-6-6 or maybe a 4-4-6-6 on the profile," he says. "That cow will be a good keeper. I want something that, in good times in our part of the country, say March, April and May, can get fat."

Above all, John says he intends to keep his use of new genetic marker data in perspective. It cannot replace the work of the breeder, the eye for balance and function. However it is an invaluable tool that adds to the breeder's base of knowledge about how his animals will perform.

John thinks overemphasis on any technology can lead a breeder to wrong conclusions. For example, he says experience tells him selecting young bulls with too much reliance on ultrasound readings can lead to slower-maturing animals which reach sexual maturity at later age.

That earlier-maturing bull - maybe a bull with higher libido - is already in full rut, looking over the fence or down the road at those females," John says. "He's busy thinking about breeding instead of eating and he may put on less weight and less muscle than the later-maturing bull, even if they have the same scrotal circumference."

He has forty years of experience breeding cattle, but he says you never stop learning. "I always keep in mind what an old cattle breeder told me years ago," John says. "He said, 'Genetics is a science that can make a fool out of the smartest man.'

"But now, by DNA testing and identifying certain genetic markers we are finally able to benefit from this science of genetics."


---
Home | Forage Tested Bull Sale | Newsletter | Map/Travel
---
OAK CREEK FARMS
John and Carolyn Kopycinski
13750 FM 1371 Chappell Hill, Texas 77426
Ph: (979) 836-6832 Fax: (979) 836-4542
E-Mail: oakcreekfarms@hughes.net