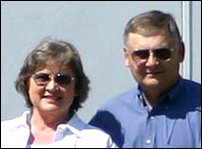 John & Carolyn Kopycinski
Benefits of DNA Profiling in Selecting Genetics
December 2007

The hot humid climate in their part of Texas makes careful breeding decisions a must to maintain a successful beef operation. John and Carolyn Kopycinski operate a Brangus and Red Brangus operation near Chappell Hill, Texas which is about sixty miles northwest of Houston and only about a hundred miles as the crow flies from the gulf. Their goal is to breed cattle to meet the specific needs of their customers. Oak Creek Farms focuses on producing high-quality, low-maintenance cattle that can thrive in the tough climate of southern Texas. John believes that using DNA profiling can help them improve their genetics faster because he now has carcass trait data on his bulls and can select his herd sires accordingly helping him to avoid some costly breeding mistakes.

"We are constantly striving to produce easier fleshing replacement females," John says. "Therefore, we need bulls that have the ability to survive in this hot, humid environment and that have the genetics to achieve our goal. If we can identify and eliminate sires early on that do not have natural fleshing ability, we can avoid producing several generations of females that have to be culled because we didn't know the bull's genetic profile until it was too late."

DNA profiling helps John do just that. He knows that the measurement of quality grade and tenderness are important for his operation and goals. The true value of DNA testing for him and his customers are identifying the carcass traits, such as back fat and ribeye area. He strives to breed cattle that are more moderate in terms of back fat, hot carcass weight, yield grade and ribeye area. He says these traits are hard for him to identify and select with traditional tools.

"With DNA profiling we get a more accurate read on the individual's true genetic potential which helps us determine if that animal has the carcass traits that will add value to our program," Carolyn Kopycinski says.

It's not just their own program the Kopycinskis are working to improve. For the last two years, they have profiled all the bulls that they marketed in their annual sale. The buyers can then use the DNA profiling which includes carcass trait information along with performance data to help them in selecting a bull that they think best fits their operation.

"In the beef business, we all need to be as efficient as possible in our breeding decisions, especially since sometimes using the wrong bull can cost us in the long run." John says. "Our buyers are looking for a complete package, and DNA profiling with carcass traits including marbling, ribeye area and tenderness traits gives them the ability to use this criteria when selecting a bull."

Carolyn agrees, noting that when buyers are making purchasing decisions, it gives them confidence and peace of mind knowing that if they select a bull with good carcass traits, that these traits are heritable and can be passed on to their calves.

"We're staying current with technology, and that helps build credibility with our herd," she says.

John says that the October 27, 2007 sale reinforced the credibility Oak Creek Farms has with its buyers. Customers' opinions of Oak Creek genetics were reflected in their bids as the Kopycinskis sold a Red Angus bull for $10,000 and a Brangus and Red Brangus for $5,000 and $6,000, respectively.

"Profiling our bulls is cost-effective when you take into account how much money is tied up in cattle that you end up culling later in life," he explains. "With all the expenses involved in raising cattle, you are definitely ahead if you know that the bulls you are putting on your cows is going to have a positive impact on your herd's genetics."


---
Home | Forage Tested Bull Sale | Newsletter | Map/Travel
---
OAK CREEK FARMS
John and Carolyn Kopycinski
13750 FM 1371 Chappell Hill, Texas 77426
Ph: (979) 836-6832 Fax: (979) 836-4542
E-Mail: oakcreekfarms@hughes.net