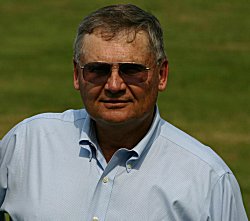 John Kopycinski

OAK CREEK FARMS PUTS EMPHASIS ON FORAGES AND GENETIC TESTING IN BUILDING A SOLID PROGRAM
September, 2008



Today's high input cost for developing cattle is a real concern to the American Cattleman. Oak Creek Farms in Chappell Hill, Texas has implemented a program to raise cattle as economically as possible.

Forages are the foundation of their program. John and Carolyn Kopycinski, owners of Oak Creek Farms located about 60 miles northwest of Houston, run over seven hundred Brangus and Angus Cows in the Brazos River bottom. Tifton 85 and Jiggs Bermuda are the main forages implemented in their program. All of their cattle are developed on forages in the gulf coast area where it get hot and humid. They have a center pivot that irrigates up to 155 acres, so that they have forages in reserve in the form of hay. The cattle thrive on forages which they believe is the only way to make a profit in today's market atmosphere with the high input cost.

Oak Creek Farms sells about one hundred and fifty registered Brangus, Red Brangus, Angus and Red Angus bulls per year. The annual Oak Creek Farms Forage Tested Bull Sale is held the last Saturday in October. The bulls are raised by their dams with only forages available. At weaning they receive a limiter as they go on the forage test in March. Then in the October bull sale, the bulls will not be real fat, but they will be in good physical condition and ready to go to work.

The annual bull forage test at Oak Creek Farms is from March 1st through September 1st. John says "This way the bulls are tested for efficiency and heat tolerance. They do not get any shade until the temperature gets over ninety degrees." He calls this part of the forage test the stress test. He also adds, "The reason we test the bulls in the hot summer time is that it allows us to test their heat tolerance and see if they have well developed sweat glands that they need in this part of the country. Bulls that can't take the heat are eliminated." He said to remember that just because a bull has a smaller frame does not mean he is more forage efficient or heat tolerant. The breeder has to look at the bull's performance and his genetic data collectively. Kopycinski referred to Dr. Jan Bonsman who did a lot of studies in the 1950's and said that an animal has to be happy in their environment, meaning that they have to be able to survive and thrive. The test is run in the Brazos River bottom where they have the center pivot so the bulls can stay on forages during the whole test no matter how dry it may get. Kopycinski has been forage testing bulls for twenty years and he says that it is the best way to develop and select good pasture bulls. They start out with over two hundred bulls and about 150 make the sale based on his selection process.

Referring back to forages, Kopycinski notes, "We have found that Tifton 85 works the best by far. We will start out with over 200 bulls on 35 acres and they never run out of forages in this system. We use nitrogen to fertilize the Tifton 85 in the summertime. The bulls will recycle some fertilizer back on the land. We use a supplemental limiter to develop the bulls because here in the gulf coast region our grasses are not as strong as they are further north. You have to know your environment." Some of the forages used are Tifton 85, Jiggs and common bermuda grass on the improved pasture. In the native pastures he has some native bluestem and bahias. He says that the legumes that work in his environment are burr clovers, ball clover, Persian clover, and Bigbee Burseen. He tries to center his breeding season around legumes to help cows rebreed, and the added bonus is nitrogen fixation from the clovers.

"We over seed our pasture using a grain drill and one pound of clover seed and two pounds of rye grass. Two pounds of rye grass per acre will give you fifteen seeds per square foot which should be more than adequate to help prevent bloat from the clovers. The clovers can add up to one hundred or more pounds of nitrogen per acre. We plant around the first of October and use two 12 foot grain drills and plant 24 feet at a time. In some pasture we go in and over seed right before we put the cows in for the last grazing which falls between October 1st and November 1st, and then let the cows tromp it in. We strip graze doing the lush time to maximize high quality clovers and to prevent bloating. The rest of the year we paddock graze with about six different paddocks, and when forages are in excess we cut hay in one to two of the paddocks," he states.

"Producing the right forages and legumes that are adaptable to your environment are as important as having the right cattle," adds Kopycinski. DNA testing is an important tool in cattle selection in a breeding program according to Kopycinski, because inefficient cattle are just too expensive to breed and develop. Oak Creek Farms is going on their fifth year using bulls that were selected using DNA test results as part of their criteria. "The high input cost has changed beef industry and producers must change with it in order to prosper in the cattle business," emphasizes Kopycinski. Oak Creek Farms' goal is to breed bulls that will be an asset to the cattle industry.

Keeping performance data on cattle lets a breeder know how they grow and gain. DNA data gives the breeder the genetic potential for desirable carcass traits including tenderness which are all heritable traits. A tissue sample is taken from each bull and sent to a lab to get a DNA Profile on each bull.. The information from this DNA profile tells how the bull rates in tenderness, marbling, and carcass quality. The breeder learns from the DNA Profile if the animal is easy fleshing and will grade well. There is also a test for BVD/PI and now there are now genetic markers for feed efficiency. In addition, the animal can be tested for hair coat color. No matter how the animal is fed or developed the DNA results are the same.

All of Oak Creek Farm bulls will have a complete DNA Profile. Kopycinski relies heavily on these test results along with the forage test data when selecting breeding stock. He believes the cost of the test are well justified because it helps him eliminate inferior animals before he puts them in his breeding program. "Investing dollars in animals that don't make the grade would be the real expense," says Kopycinski. The DNA information helps him cut through the chase and select only the cattle that have profit making genetics.

"An important factor in selling bulls is informing your customers of how their bulls are developed and what to expect from them. We have a seminar the night before our annual sale so that our potential customers may learn more about our program and our philosophy to help them in their breeding decisions," says Kopycinski. He gives his bulls buyers the opportunity to participate in the annual sale by consigning commercial heifers that they bred and developed. This also helps his customers, who are in the market, to buy verified source heifers and to be able to visit with the breeder.

Kopycinski has been breeding Brangus and Angus since 1967 and has always worked toward having efficient cattle. Dr. Jim Sanders from Texas A&M has given John sound advice during the last twenty years emphasizing how important it was to breed moderate sized, easy fleshing cattle. Dr. Sanders believed that cattle were getting too big in the 1980's, and that they were not practical or efficient. "He was right," says Kopycinski, "and I am so glad that I listened to his common sense advice in my breeding program." Kopycinski also said that if a thousand to eleven hundred pound cow can wean half her weight, she is going to make you more money than a larger cow because the input is much more in the larger animal.

Cattlemen are looking for answers to help them with the high cost of production and Oak Creek Farms' breeding program provides them with bulls that thrive on forages and have good carcass traits. "When we sell our bulls," adds Kopycinski," we have a data sheet that has the performance data plus the DNA data with the carcass results, and ultra sound data. This year we will also have feed efficiency data in our bulls' DNA Profile. This information helps the potential buyer make his selection. With the high input cost today it is so important to not just to guess which cattle are the best, but collect data so that there is a basis for selecting breeding stock." Using performance data and the DNA Profile has helped Kopycinski in making his breeding decisions, and he can see the payback with the improvement in the cattle.


---
Home | Forage Tested Bull Sale | Newsletter | Map/Travel
---
OAK CREEK FARMS
John and Carolyn Kopycinski
13750 FM 1371 Chappell Hill, Texas 77426
Ph: (979) 836-6832 Fax: (979) 836-4542
E-Mail: oakcreekfarms@hughes.net